Dual Serial Digital I/O Module Features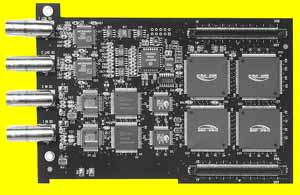 SMPTE 259M Compatibility:
The Series Digital Daughterboard supports communications with digital component devices such as VTR's (D1, DCT and Digital Betacam), switchers, DDR's and other peripherals. The board accepts and generates Component 4:2:2 signals at data rates from 270Mb/s to 540Mb/s.
Multi-Channel Support:
The Dual Serial Digital Daughterboard accepts up to two component serial digital inputs. The second input can be used as a second video stream or as a key channel input.
The board also supports two Component Serial Digital outputs. The second output can be used to mirror the primary output, can output a key channel, or can output any other video stream in the Video Explorer 2 system.
Additional information: